I did it with Francisco Lusso
Task 1: Analyzing the poem
s1
1) In the first stanza, the main emotion expressed is trauma. The soldiers conveyed shock and vulnerability since they saw how terrible war is. They did not expect such fatigue or at the same time, agony. Soldiers were not aware about life in the trenches or being under attack.  We imagined how weak they were since malnutrition affected the fighters. They tried to survive no matter if they were exhausted or not. "Returning home was seen as a difficult task to accomplish."
2) "Bent double, like old beggars under sacks"
3) The shells are dissapointed since it suggests that the bombs not only are useless as they missed their target expected but are dissapointing the soldiers since their main desire was that the shells hit the enemy, maybe to end with the misery and the torture to finally make them rest eternally. War is seen as hopeless and unforgivable. There is a little possibility to survive.
s2
1) The emotion deeply changes from being shock, exhausted and sorrowful to a more opressed, confused, dramatic atmosphere showing panic surrounding the soldiers. War is seen as a difficult step or task to reach, following the shock which is constantly repeated. For example "gas" is in capitals to portray that the fighters are perturbated by this situation. They were yelling  They were not as alarm as expected. It took time for them to realize from all the panic they were living in.
2) The soldiers were fumbling for to put hurriedly their helmets before the toxins reached them, which will cause automatically their deaths. It sorted out the disorganization and the confusion the soldiers were living in as they were unable to think what was really happening. They warned and yelled but in some cases, it was too late.  Nothing to do with an ecstasy of euphoria.
3) The metaphor used to describe what the gas looked like is: "Dim through the misty panes anthick green light"
s3
1) We think the third stanza is only two lines long as the narrator is describing past events, memories he remembered about the war, the hardships they lived through. It narrates in the present. We assumed the narrator is alive and could return home. He never saw his friends again as they possibly died
s4
1) The main emotion expressed in the fourth stanza is an emotion of resentment and annoyance mixed with remorse. The narrator could not tolerate war, he explained how terrible and oppresed it was. He felt guilty for the people he left behind but he will never forget about his partners who were along with him all the time.
2) Three parts of the body that are affected are the eyes, the lungs and the tongue.
3) The final lines are written in latin so the translation is " It is sweet and proper to die for the fatherland". Wilfred Owen, with this phrase, established a critic to war propaganda. Owen is one of the soldiers who fought for his country and was in a way forced to enlist and to participate. He portrayed the hardships of wars and said that no man deserved to go, fight and die for it. In addition, war is not honorable, patriotic or noble. It is death and suffering.
Extension Question
In our opinion, this poem described lots of things that are trasmitted to us which makes it  an attractive to poem to read.  As we analysed the poem, we could see Owen's desire to make readers understand war's dark side. We were able to understand Owen's experiences and we were able to go through his mind trying to see how tough was to survive. This poem is full of imagery, powerful words, literary terms mostly connected with pain and fear. We can see this in the first stanza,  when it says "like old beggars" suggesting that soldiers are deprived of dignity and health or in the case of "like a man in fire or lime" portraying a scene of desperation and agony as Owen witnessed a man on fire. He compared it with lime as a strong alkali which burns the skin so does flame. Moreover, there are many metaphors conveying men's physical conditions, for example, "drunk with fatigue" as they stumble through the mud, or, similies suggesting lungs suffering just as though they have cancer. There is a lot of analysis to deal with, that is the reason why this poem is so catchy and wants readers to continue reading thinking how war changes a man forever.
Attack by Siegfried Sassoon
Sasoon portrays the realness of war, how it actually was.
Portrays what happens in the battlefield as if the reader was viewing it through their own eyes.
Soldiers fought for their country, not knowing how harsh it truly was. he depicts the true nature of war.
The voice is as soldier who wants the war to come to an end, in the last lines, there is not a clear answer, but an idea of what could have happened.
The last line, could show the feelings of soldier towards war by ending the poem with a big question mark.
There are lots of quotes dealing with the idea of soldiers struggling to survive and Jesus as a the protagonist who do not do nothing to make stop the war. The poem tells us the terrific side of war, prolonging it towards death.
Moreover there are lots of imagery related to men running towards the enemy, running towards their deaths.
Emotions are also present, making us realized that soldiers were not treated as equal as individuals and many times fear about putting thier lives at risk.
Imagery is related to the artillery of military tanks and artillery bombardments.
There is an important phrase "At dawn the ridge emerges massed and dun, in the wild purple of the glowering sun" symbolizing the time of the day it elapses and the weather which is described a "glowering sun" giving off much more heat.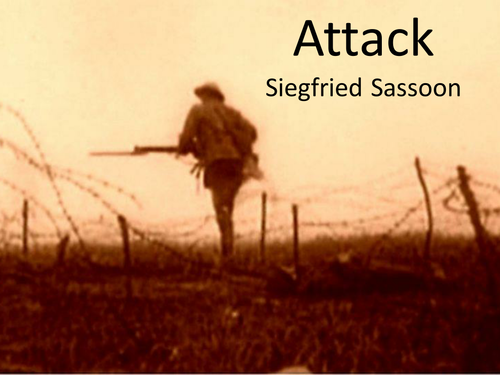 Futility by Wilfred Owen
Poem about an injured, probably dead soldier. It is set in France during the First World War
Owen questions what the point of life is when being created since it can be destroyed so easaly
The term and title of the poem "Futility" shows how pointless and worthless war is.
Futility is Owen's belief in the worthlessness of both God and war.
The poet begins talking of a certain "him". We do not know who he is since he can represent all the soldiers fighting in the war or one specific soldier.
"Move" suggests he can't moves himself making readers wondering why.
The personification of the "Sun" suggests it is tender, gentle and powerful contrasting the brutality of war but helpless in the face of war.
The poem emphasises a deep contrast between being alive or dead. (Mixture of present and past tenses)
"Fields half sown" suggets he was a farmer before he had to enlist, implying he had lost potential. Respectful and friendlier tone suggeting kind of sympathy to the brave soldier.
"France" is mentioned. The First World War settled there.
Moreover, "snow" seems as a metaphor for a loss of hope.
Possibly, the repetition of the word "him" implies a reference to a byblical connection, Jesus Christ. Connection between Jesus sacrificing for humanity and soldiers sacrificing for their nations.
Hope has been lost, soldier is not able to return to home (dying). Life is futible due to war. Death is inevitable.